Meet our ministers of the sacred groove. Each has their own unique style and musical influences.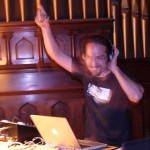 DJ Root  began thrilling dancefloors at Oberlin College as he studied  ethnomusicology, dance, and religions. He spins regularly for  exultant crowds of barefoot freestyle dancers in New York, Boston,  Montreal, and his hometown of Northampton, MA.  A global traveler,  teacher, and performer, Root leads jubilant Sunday Mornings at Dance  Spirit, honoring music and movement from many of the world's spiritual traditions. Find out more at his website: www.grooveparadise.com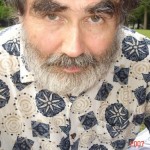 DJ Prakashji  lives in Florence, MA and has been a Music Leader and organizer for Dance Spirit since Fall 2006. Prakash has been dancing since 1970 and meditating since 1971 and loves to bring together music and spiritual inspiration from around the world to Dance Spirit. He is a dancer with the Dance Generators in Northampton, an Intergenerational dance company, and organizes performances of dancers and musicians and more in nursing homes and assited living centers in Western MA. For more information about Prakash visit: www.letusmovetogether.org.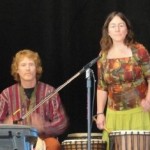 Jon & Lisa have been drumming together for many years. They have studied in the traditional West African style but also have been a part of many different drum circles, workshops and events. Lately they have been expanding their musical repertoire with a Balafon and a Native American flute not to mention the many drums in their care. Along with an interesting and unusual collection of music from many cultures,  they bring an element of live music to Dance Spirit whenever they host and are often joined by local talented troubadours of all kinds.
Rachel Rudman Dj Rachel loves Dancers.  She wants to stroke your D-spots.  With a broad deep collection of grooves from all times & all places she provides a unique responsive experience for your pleasure in the Dance.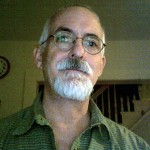 Mitch lives in Northampton, MA with a varied background in music and spiritual community. He has devoted much time to yogic practice at the Kripalu Center in the berkshires, and currently works with pre-schoolers. A trained percussionist, Mitch leads dances with an awareness of connectivity, open-heartedness, and rhythmic delight.

Bonnie, aka fireUrchin, sees music as alchemy through the body. Her desire is to create musical flows that inspire authentic moving – with play and communion, from within and through our connectedness. She feels diverse music and movement internally allow us to feel other cultures, open us, and shift our moods. She was recruited to help start and create musical journeys in 2004 with Ecstatic Dance Houston. Settled now in Leverett, MA, fireUrchin also offers Bioluminosity – transformational movement journey, monthly, in Amherst. She is also a visual artist. ~ for more info: www.fireUrchin.com